It was a nice warm morning at the Krasnaya Raka Coast and Heather was walking alongside the river looking on a drawing she had. This was supposed to be a map but she could not really decipher anything but that she had to go down river and towards the sea and there she was already now looking around a little clueless. There was the river to the right, the ocean up front and some muddy land to the left. She was here because someone had told her there would be Trapinch close by. So she now was searching for footprints or something. Maybe she could get a better view if she stood upon a bigger stone or something so she searched for one and then pulled herself up. It needed two or three tries to really get her up on top of it and then she got up on her feet. She looked around and thought about it. Where could be a good spot to have a nest or more likely hole or burrow to hide in. For now she remained without any luck so she looked into the sky thinking about what to do now. They had said there were Pokémon like this around so she had to keep looking. It was quite early in the morning so they might just be asleep in their holes so she just needed to have some patience. There over in the hill there were some holes in the ground, maybe if she watched them for a while she could see something. So she rested herself upon that rock she was sitting and looked at the holes closely.

WC: 275
Something stirred in the water. Two eyes watched carefully as a human observed the ground... But when her back was turned...! He attacked!
Carvanha:

Name:

Carvanha

Gender:

Male

Level:

4

Type:

Water/Dark

Rank:

D (+10 Attack, +5 Speed)

Ability:

Rough Skin

Health: 4

Attack: 8 (+10)

Defense: 4

Special Attack: 4

Special Defense: 4

Speed: 8 (+5)

Acc: 0

Eva: 0

Moves

1. Leer

1.

Bite

4. Rage

Special Moves

-

Hydro Pump

-

-
_________________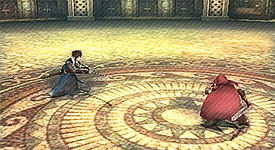 Since she was sitting on top of the stone she did not really recognize the Pokémon drawing nearer. It was only when the water hit her she was aware of the Carvanha in the waters behind her. Maybe she had disturbed his hunting grounds and therefore it might see her as an intruder to his home. There might not be another way, because she wanted to sit here some more because she wanted to have that Trapinch but while that other Pokémon was attacking her it would be too difficult. So she took her Poké Ball out and sent out Eevee: "Cresent your turn!" Her Eevee emerged from his ball facing the Enemy Pokémon. With a not so fearsome call it made his fur stand on the edge and tried to be as intimidating as possible for a cute Pokémon like that. The Pokémon in the water did not seem too impressed with that and started a next attack. Fearsome glares that she could identify as the attack leer to lower the defences of her partner. "Cresent use yawn!" , she ordered the Pokémon and it followed the command letting out a long yawn that was kind of captivating. Heather knew it would take some time for the Pokémon to get sleepy from this kind of action and so she waited but the Carvanha spit out a fountain of water in the direction of the Eevee and t was hit quite badly as it was not quick enough to move aside but her Eeevee did not seem that impressed and to her command that it should use tackle it launched itself at the enemy and met its head first pushing it aside for a bit. This was when the yawn effect would kick in and it would fall asleep. For a brief moment she thought about it, should she try it? Sure why not she could spare one ball, so she threw it at the now sleeping Water type.

WC: 328
TWC: 603
The member 'Heather' has done the following action : Dices roll


---
'Capture Dice' : 2
_________________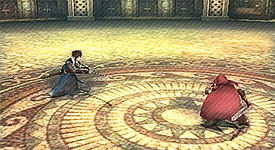 The capture was successful~

Eevee is in need of healing.
_________________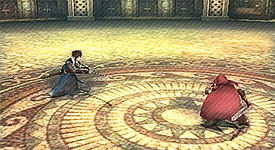 She had indeed caught that Pokémon and was kind of surprised by her luck. It was not what she had wanted but since Trapinch was a ground type this water type could be of great use to her, but not if it was sleeping. So she rushed towards the water and picked up the ball and then her Eevee nuzzling it gently and cuddling it inside her arms. Gently praising it for its hard work and granting it a gentle kiss on the nose. It had taken some damage and the new friend of the two was still asleep so Heather decided it was smart to go back to the Pokémon Center and return later this day. Keeping Cresent out and in her arms she was walking back following the stream so she would not lose her way. While she was walking, she was gently caressing Eevees head scratching it between its ears while it rested relaxing in her arms closing its eyes. Humming, she then some time entered the Poké-Center where a nurse welcomed her with a sweet smile. Returning Cresent to his Pokéball she handed both Pokémon over to the nurse for healing. Heather sat down on a bench in the waiting room taking a magazine into her hands reading about the newest trends around the region. There where news about the newest clothing designs form a popular designer, than gossip about some prominent couples that where breaking up and then getting back together for the millionth time, as section for trainers. Useful tips for starters like how to make out a Pokéball that indeed was able to function to catch Pokémon and which one was fake and not functional. Funny thinking about it, but here it was not that long since being a trainer was officially permitted like where she came from, where being a trainer had been a thing since forever. She closed the magazine as she heard the nurse call out her name. She walked over to the counter taking back her Pokémon thanking her for taking good care of them.
Now she was walking back to the spot where she had been before but then crossing the river to the other side. Maybe she had more luck over there. Slowly she looked around less rocks more hilly ground where the Pokémon with the huge mouths could be hidden. So she closed her eyes putting her ear to the ground listening. Nothing jet but maybe soon and with her new companion it should be much easier to fight against those ground type Pokémon and get one. So she prepared to wait for a longer period of time. It was afternoon maybe she had to wait until nightfall but she did not mind at all.

WC: 459
TWC: 1062
She had then sat there for a while. Looking around on the ground and into the far off wild before her she signed. Not a single Trapinch in sight. Maybe someone lied to her about them having nesting grounds. She decided to have some playtime instead. So she called out her Eevee and the Carvanha so they could enjoy the water with her. While she took off her boots Eevee ran around chiming happy about being out of his Pokéball. The new Carvanha looked around curious. It was its first time being out of its ball and it did seem as if it could not decide whether it should be happy or not. Gently she called it along as she started walking through the shallow water splashing it a little. That seemed to be something the fish Pokémon beside her could relate to. It started to splash with water as well. A little water towards its new Trainer and a little water towards Eevee and gave a kind of growling sound from its lounges. Laughing and smiling along Heather jumped through the water had a kind of game on who could splash the others the most. Sure the water Pokémon was totally in favour of this game because it was an easy win.
 
As she and Eevee were totally soaked from top to bottom she took a break handing her Pokémon some food and putting out her clothes to dry. Signing she looked around and thought about what she had begun and what she wanted to do now while her Pokémon were happily eating away at their food. Gently she stroke over the head of her Eevee that was sitting beside her and they were watching the sun slowly going down and sinking into the sea, as if it was swallowed by it and the sky turned red and purple in the nicest colours. She looked up in the sky and smiled as the wind was brushing through her hair. She held out her hands and gently touched the snout of her Carvanha. She had to be careful because of his rough skin that could easily bruise her own. Gently scratching its back and beside his fins. Small growls almost purr-like evaded from its mouth and she smiled, it seemed like they could get along. A thing that gave her a little confidence because she was unsure about if she could handle such a strong headed Pokémon, but for now it seemed as if the water type could become a welcome Part of this team.
 
As it grew colder she put her clothes back on and a little shiver went down her spine. They were almost dry but not to the fullest. She got up again and called Carvanha back to his Pokéball and then called for Cresent to follow her as she was walking along the stream back to the place where she earlier in the morning had seen the holes in the ground. Maybe she had now a little luck. She then again crawled towards the holes in the ground to take a closer look, maybe she could see something that way.


WC: 524
TWC: 1586
---
Permissions in this forum:
You
cannot
reply to topics in this forum